SDC (Swingers Date Club) Review
Rating: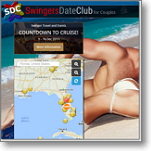 Last update: September 14, 2017
Introduction
If you are a swinger couple looking to hook up with fellow swingers in your area, there are tons of options that you can take. However, only a handful of these options are actually worth your time. One of today's most effective ways to hook up with fellow singers is through the internet. When it comes to hooking up with swingers online, no other site can help you better than SDC.com. SDC or Swingers Dating Club boasts over 3 million registered users. These members are located all over the world. With coverage in over 50 countries around the world, you are bound to have the best time in SDC.com.
Registration
It won't take a computer genius to figure out how to register with SDC. In fact, the registration process is quite simple. Most people find the registration process of certain dating sites to be quite annoying. Fortunately, you won't have to worry about that if you decide to sign up with SDC. One of the best things about SDC is that you can sign up for free. If you don't want to spend your hard earned cash right away, you can sign up for a free 7-day trial. All you need to do to sign up is to provide your login name, email address, password, promo code (23478) and your location (specific country and city). After you select your swing status, you are good to go. Signing up and creating a profile is as easy as 1-2-3.
Free Features
You can take advantage of SDC's features without spending a penny. If you choose to take the 7-day free trial, you will get an idea about how the site generally works and how it can help you hookup with the swinger date of your dreams. By signing up for free, you will be allowed to view a limited number of Swingers Date Club profile photos. As mentioned earlier, there are dozens upon dozens of member located all over the world. Finding a date is still possible even if you are only using the site's free services. Because you will be allowed to view a number of SDC profile photos, you will also be able to receive messages from other users. Advanced (detailed) search functions are also available for free users. If you want to use the more advanced features and a bunch of other useful features, all you will need to do is get a full membership.
Paid features
By getting a full membership, you will be able to do a bunch of stuff that you can't do as a free member. While being a free member is not that bad, being a paid member is on a completely different level. If you are a paid member, you can contact any and all contacts that you want. Yes, you will have access to over 3 million profiles in the SDC's database. In addition to this, you will also have unrestricted access to photos and videos of the sites' members. Using the Chatroom services is also among the best features in the site that is only available for paid members. By using this feature, you will be able to chat with other members in real time. If you don't like waiting a long time for replies from potential dates, this is the place for you. Another feature that is not available for free members is the Speed Dating service. Needless to say, you can find everything you need when it comes to hooking up with swingers if you are a paid member.
Price
There are several types of membership that you can choose from at Swingers Date Club. Each of these types has its advantages. Basic membership is free for those who want to try the site out before making any commitments. Here are the rates for those who are interested in getting a full premium membership.
Full premium membership for couples:

– 1 month – $22.95
– 3 months – $49.95 ($16.65/month)
– 6 months – $79.95 ($13.33/month)
– 12 months – $119.95 ($10/month)

If you are a single male planning to get a full premium membership, it will be a little more costly. The rates are:

– 1 month – $29.95
– 3 months – $59.95 ($19.99/month)
– 6 months – $99.95 ($16.66/month)
– 12 months – $149.95 ($12.50/month)

Members by Countries
– Worldwide
Conclusion
All in all, being a member of SDC is a great experience. Regardless of whether you are a free or a paid member, SDC can provide you with the push you need to pursue your dating needs. SDC is one of the best in the online dating business. By trying the site out, we can confirm that SDC does have a well deserved reputation. If you are specifically into swinging, you will never be disappointed with Swingers Date Club. If you are afraid of spending your hard earned cash on something that you are not sure of, by all means, try the site's free trial offer. You will most definitely like what you see if you do so. And if you want to experience more, getting a full membership will open a lot of possibilities for you. If you love swinging, we highly suggest that you try SDC.com out.