Swing Lifestyle Review
Rating: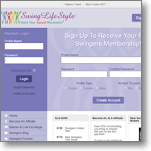 Last update: September 14, 2017
Introduction
The swinger dating scene nowadays is becoming very popular. If you are looking to hook up with a swinger, your best bet is to try online swinger dating. There are several swinger dating sites that you can choose from nowadays but only a few of them can really cater to your needs. Most of the other sites nowadays are all talk. If you are looking for a great online swinger dating experience, you must only settle with the best. One of the best swinger dating sites today is SwingLifestyle.com. If you are looking for a swinger dating site that has a very active community, you can never go wrong with Swingerlifestyle. Singles and couples interested in swinging can easily hook up with more than a million active swingers by joining Swing Lifestyle.
Registration
The registration process is usually the step where most people get annoyed with. Some sites tend to have a complicated registration process that often turns their potential clients off. Fortunately, Swing Lifestyle is not one of these sites. Signing up with Swingerlifestyle.com is as simple as ABC. First up, you will need to provide basic information about yourself. You will not be required to share important details like credit card number and specific home address. You will need to specify your city and country but that would be all. You wouldn't have to worry about creeps coming over to your doorstep after signing up with the site. Also, you will need to provide a login name, a valid email address and your desired password.
Free Features
As with other popular swinger dating sites, you can also use SwingLifestyle.com as a free member. If you choose to sign up with them as a free member, you will be given access to the site's basic features. However, free members will only have limited access to these said features. Free members can send only up to 5 mails and view up to 50 profiles per day. Viewing of nudity is also limited if you only have a free membership. Forum features are also limited if you are a free member. While you can still access the forums and group pages, you will only be allowed to read the posts in these pages. Chat features are also limited. If you find these features to be somewhat "lacking" then you might want to upgrade to premium membership.
Paid Features
If you have the dough to spare, it would be a good idea to upgrade your membership to premium. Paid members can do a whole bunch of other stuff. They will also be given unlimited access to the features mentioned earlier. If you think sending up to 5 mails per day won't be enough for you, get a premium membership and you can send as many mails as you can per day. Viewing of nudity will also be unrestricted for premium members. If you into forums and groups, you can join discussions and even create your own threads on the site's forum pages if you are a premium member. Let's just say that paid members can fully benefit from each and every feature that this amazing swinger dating site can offer.
Price
If the features above got your interested, you may want to know about the cost of singing up with this amazing swinger dating site. Basic membership is free and you will be given access to some of the sites features. However, if you are looking for something more, here are the monthly rates for premium members:

– 1 Month – $14.95
– 3 Months – $29.95 ($9.98/month)
– 6 Months – $49.95 ($8.33/month)
– 12 Months – $69.95 (5.83/month)
If you want to be a member for as long as the site is alive, you can do so by paying a lifetime membership fee of $149.

Members by Countries
– USA, worldwide
Conclusion
SwingLifestyle is one of today's top swinger dating sites. If you are looking for the best, you will not be disappointed with this dating site. SwingLifestyle.com can provide you with a very active online dating community that is devoted to the swinger lifestyle. Regardless of whether you are a single or a couple, you will be able to fulfill your fantasies by signing up with this site. SwingLifestyle can provide you with an experience that is quite similar to other adult dating sites. With great features like IM, forums and mailboxes, it will only be a matter of time until you find the perfect swinger dating experience that you have been looking for. If you are not convinced by this, then by all means, check out the many positive testimonials made by a dozen of the site's users that can be found all over the internet.